The holiday season is around the corner – and, no matter whether you are running a small local store or you are selling your own creations on Etsy, you know that the holiday shopping frenzy is about to begin! 
Of course, this is an important time for you to reach out to new customers, consolidate the loyalty of returning ones, and expand your business. But in the rush that is likely about to happen, it is important not to forget how your products' packaging impacts the overall customer satisfaction. 
eCommerce marketplaces have enabled creators and entrepreneurs around the world to build their own business on a limited budget. However, most people actually fail on platforms like Etsy! This is also because the competition has never been as fierce as it is today. A defined competitive advantage and a stellar brand image can help you succeed – and the right small business packaging idea can help you with both! Check out the tips below. 
Why Is Your Small Business's Packaging Solution So Important?
So, you have put all of your creativity, commitment, talent, and hard work into creating a product that is unique, different from any other, and appealing to your customers. However, it is important not to forget that consumers will make up their impression about a brand within just seven seconds!
That is why the packaging you choose – which is also the first thing that a customer will see about your product – is so important. Studies have even shown that packaging can influence a consumer's expectation, loyalty, and satisfaction level. 
What's more is that your customers know that how a brand does something is exactly how that same brand does everything. So, it is crucial that you put the same effort you have put into crafting your product into choosing the right packaging for it!
As the holiday season approaches, you have the chance to leave a long-lasting impression on your customers and their loved ones. Make sure to get it right with one of the small business packaging ideas below!
15 Unique Packaging Ideas for Small Business
In the video below, you can find some mistakes you need to avoid when selling on Etsy:
Once that is clear, go ahead and pick one of the creative Etsy packaging ideas to make your business stand out – and don't forget to tailor them to your brand!
Use Recycled and Natural Materials
Consumers are increasingly interested in products that are respectful of the environment. And, during the holidays, household waste increases by 25% and over 75,000 tonnes of additional packaging waste ends up in landfills. 
Luckily, there is a lot you can do to create a more environmentally-friendly image for your business – and do something great for the planet – starting from your packaging! 
For example, you could opt for recycled materials or plain brown paper that is easy to recycle. Tie your boxes with natural, undyed string and add a special touch with flowers, botanicals, or natural elements of your choice. 
Personalize Plain Packaging With a Sticker
Thanks to the growing eCommerce marketplaces, entrepreneurs and creators can truly make a living out of crafts today. However, in most cases, you will start operating with a small budget that you need to stick to. 
If you have limited funds to create packaging that is both outstanding and personalized, you might consider a plain brown wrap or box enhanced by a branded sticker. Since sticker packaging ideas are close to endless, you can opt for adhesive labels, handcrafted details, or digital artworks. 
Run a Theme
Running a theme is essential to link your product to your brand. When picking a theme, it is important to keep in line with your brand's verbal and visual identity. However, you can also ensure that the packaging solution you have chosen fits with the festive theme. 
Of course, when creating brand awareness, consistency is key. But don't be afraid to experiment with differently-themed versions of your logo and color pattern. 
DIY a Branded Canvas Bag
Who does not love a canvas or tote bag? And, there are never too many of them! Whether you consumers will repurpose them, use them to keep the products they have ordered, or use them as a shopping bag, you have an added tool to put your brand logo out there!
Especially suitable as alternative clothing packaging ideas, canvas bags are easy to personalize with just a small artwork, print, or stamp. 
Add Flowers and Botanicals
If you run your business on a budget, the chances are that you have opted for bulk buying plain packages for your products. Undoubtedly, wholesale can help you keep up on top of your expenses and provide a long-term stock of supplies. 
Nonetheless, to help your products stand out from the rest, it is important to add a personalized touch. Using wildflowers and botanicals can be an excellent way to elevate the aesthetics of your package. 
Opt for Minimalist Packaging
Sometimes, your package does not need much at all to stand out. Especially if you sell hampers and care packages or you are after gift box filler ideas, minimalist packaging can be the best alternative. In these cases, a wooden hamper, a box, or a case can be the package themselves! After all, you wouldn't want your creation's package to be too overwhelming. 
Allow for Customer Personalization
New statistics show that over 80% of consumers prefer brands that allow them to customize their experience. While your product might come in a set range of colors, sizes, and shapes, you can certainly offer package personalization options at no extra cost. 
For those small businesses running on a greater budget, you could consider engraving a phrase or name on the package. Alternatively, more affordable alternatives include using sealing wax with a unique design or just blank labels that will carry a message chosen by the buyer. Remember, there's always a way!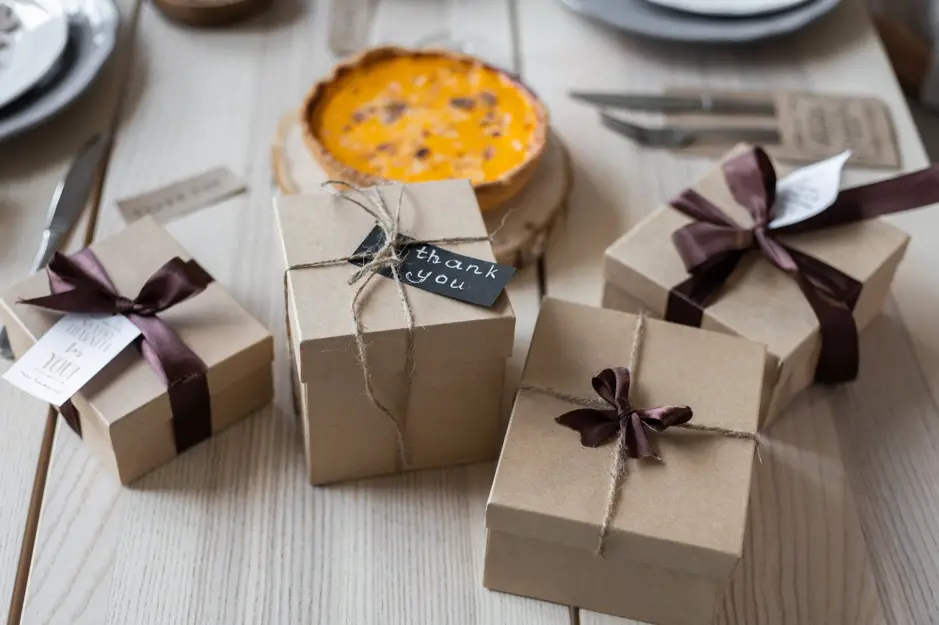 Use Fabric
Over the past years, you might have noticed that big brands have started to wrap their products in fabric. For many, this can seem like an innovation aimed at reducing packaging waste and plastic consumption – and it certainly is. 
However, the idea behind it is not a new one. In fact, in Japan, wrapping cloth – also called Furoshiki – has been consistently used since 710BC! And, since all clothes that can be used as wraps are considered Furoshiki, you can create your own at a limited budget!
Check out how to create them and use them in the video below:
Make It Seasonal
If you have been running your local or digital shop for a while and you have found the perfect type of packaging for your products, you might use the approaching holiday season to test out other alternatives. For example, you can add traditional symbols to make your package more festive. If you wish to add natural decorations to it, make sure to check for items that can be easily found during the season. 
Think Outside the Box for Accessories
If you craft accessories, you might struggle to find a package that protects your creations, fits your specific needs, and elevates your creations without overpowering the finished product. This is where you truly need to think outside the box! For example, if you are looking for creative jewelry packaging ideas, you might consider crafting a person's silhouette out of carton material and adding the jewelry to it. 
Opt for See-Through Packaging
If your creations are aesthetically appealing and all the packaging options you have tried seem to cast a shadow over their beauty, you might consider opting for see-through packaging. For example, you might add a transparent film to protect your homemade candles or soap bar, and complete the look with a branded label. 
Add an Extra Touch With a Polaroid, Postcard, or Artwork
If you are looking for Etsy packaging ideas that can withstand the wear and tear of shipping, you might consider enriching shipping-proof packaging boxes with a personalized item. For example, you could add an artistic polaroid photo (great if you have a passion for photography), a postcard, or digital artwork. These nice extras might be a great touch that, in the customer's eyes, just adds value to the purchase.
Transform Plain Paper With Hand Painting
As we have seen above, the best affordable and creative packaging ideas for small businesses are also DIY packaging ideas. After all, there is nothing like infusing a product with your own talent to make it unique. If you are great with watercolors or you love sketching, you could just consider wrapping your products in plain or recycled paper and add a small handmade artwork to it. 
Not only does this add a unique touch, but it also gives you the chance to put your skills to the test!
Include Free (Branded) Goodies
Looking to increase your brand loyalty? Recent statistics say that, for over 90% of consumers, the secret is in free goodies! However, this does not mean that you just have to give your creations away for free! Instead, you can add affordable and sustainable additions that also come with your brand on them. 
So, you can encourage your consumers to become brand ambassadors and gain increased visibility while making a customer extra happy. 
When choosing the right free goodies to add to your product, make sure they are in line with the brand itself. Some valid alternatives include how-to guides, checklists, branded stickers, and samples of your creations – perfect if you make scents, candles, or perfumes. 
Include a Hand-Written Note
If you wish to keep your packaging minimalist, plain, and affordable, there is nothing wrong with doing so. However, you should consider alternative ways to communicate your care and commitment to your brand values to your consumer. 
A great alternative to doing so would be to send a hand-written note or letter with each package. What you include in your note is up to you – but your brand's story, your values, greetings, and phrases expressing gratitude are all excellent choices! 
Remember to keep in line with your chosen brand voice. If your brand tries to be casual, funny, or ironic, your consumers will certainly appreciate a joke to share with their families around the Christmas table!
Add a Useful Extra
As we have seen above, free goodies added to the order are the highway to your customer's heart. However, you might also consider some packaging insert ideas that are useful to your consumer. For example, if you create and sell agendas, planners, or diaries, you might consider adding bookmarks or colorful sticky notes. 
New Trends In The Packaging Industry To Look Out For
Above, we have seen 15 small business packaging ideas that can truly help your product stand out. However, it might happen that your product just does not fit well with these alternatives. In this case, don't fret! 
You have come as far as putting your creations out there and running a successful business. Now, you just need some more creativity to create equally appealing packaging. Just keep in mind these emerging packaging trends to make your packaging more attractive:
More minimalist, recyclable, and sustainable packaging is the most powerful trend in the packaging industry.
Personalization is key to creating a product that stands out
Adding branded goodies to it can help you enhance your brand awareness level
Packaging that can be reused – such as canvas bags and totes – is actively sought after and is perceived as extra value added to the product.
Digital printing packaging options are taking over the industry
Packaging should be visually-attractive to be social-media ready
Make sure to check social media platforms for inspiration. And remember that the right packaging can help you sell across a variety of marketplaces – including Pinterest!
Find More Cute Packaging For Small Business At Crafts and Dollars
Each small business is unique – and the packaging solution chosen should reflect this uniqueness! Here at Crafts and Dollars, we believe in the full potential of small businesses to conquer the hearts and minds of consumers. But, first impressions matter, and choosing the right small business packaging idea for your shop can make a difference. Start crafting your packages today!