Do you love finding unique vintage items at local flea markets? Are you passionate about giving antiques a second life? This might be the best moment to get started with your vintage Etsy shop and make a career out of your passions!
According to Vogue, vintage furniture is about to become the hottest home decor trend in 2022, and a new study by Nomura tells us that collectibles are considered a $1.7 trillion asset class. What's more is that antiques and vintage items are becoming increasingly accessible, and today's buyers have developed an interest in unique items that carry a long history.
So, if you have been considering opening your Etsy shop and turning your interests into a profitable side hustle, don't think about it twice! In this guide curated by the experts at Crafts and Dollars, you will find everything you need to launch a successful vintage and antiques Etsy shop!
Selling Antiques on Etsy: Let's Start From the Basics
While selling vintage items and antiques might be the key to a successful Etsy shop, let's start with a word of caution. Whether you have experience selling items on Etsy or not, you should know that selling vintage on this platform is very different from launching a crafts and supplies shop. Since each item is a one-of-a-kind piece, you should have a precise strategy in place to succeed!
Let's get started!
Can I Sell Vintage Stuff on Etsy?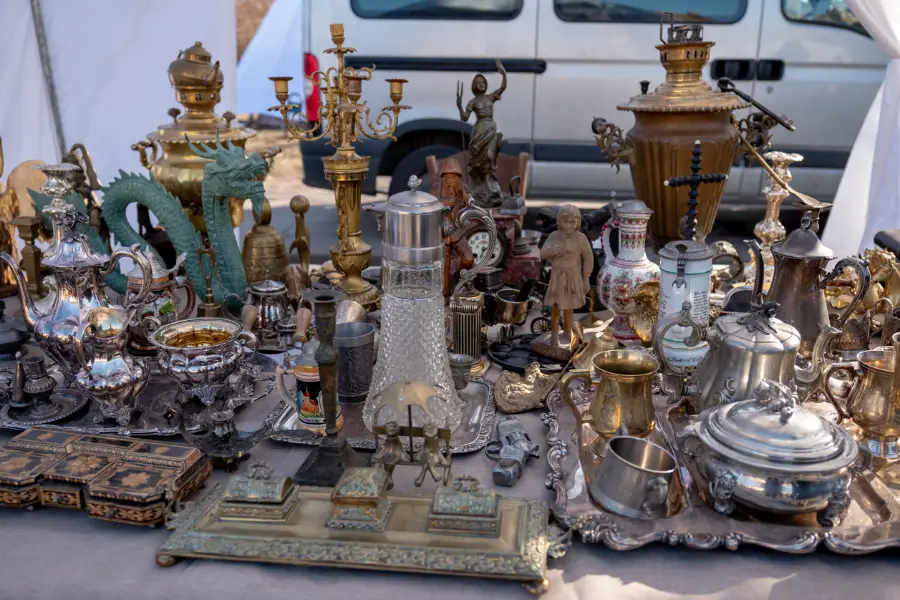 Etsy is a platform for all things creative and unique – so, yes, you can sell vintage items on Etsy! Some of the items you can sell through your vintage shop include:
Jewelry
Home decor
Wall art, prints, and artworks
Vintage clothing
Furniture
Coins
Before getting started, you should make sure to review Etsy's house rules on what defines a vintage item. Some things to remember include:
To be classified as "vintage," an item should be at least 20 years old.
You might be asked to authenticate items that are no longer in production
You might need to provide photo documentation for the items you are selling
Each product description should also include information such as:
Product provenance and sourcing
Age verification
Designer and manufacturer's details
Type of material or fabric the product is made of
Pro tip: Keep in mind that your shop might be flagged down for misleading product descriptions and photos – and information such as "the item has been handed down to me by my great-grandmother" doesn't count!
Is Etsy Good for Selling Antiques?
So, yes, you can sell vintage items on Etsy – and this might just be the best platform for it! Unlike platforms like eBay, Etsy allows you to create a seller's profile, which is essential to build trust in your buyers. After all, your audience will need to know that you are reliable and trustworthy – and selling truly vintage, authentic items!
Additionally, Etsy buyers are a particularly receptive audience for antiques. Indeed, most shoppers on Etsy are there because they are actively looking for one-of-a-kind, niche pieces that they just can't find somewhere else.
According to a recent Etsy marketplace trends report, in fall 2021, vintage items searches were up by:
59% for "vintage brass items"
89% for "vintage mirrors"
38% for "gold vintage ring"
45% for "vintage Halloween decor"
Of course, it is important to keep in mind that trends in the marketplace – as well as what buyers look for – fluctuate throughout the year.
Challenges of Selling Vintage on Etsy
As we have seen above, selling vintage and antique items on Etsy is different from selling handmade items, crafts, and supplies. These are some of the challenges you should expect when opening your vintage Etsy shop:
Proving the authenticity of items and ensuring that your shop does not get flagged down
Marketing one-of-a-kind items that you can't sell again once they are gone
Keeping returning customers' interest
Storing and shipping vintage items safely and efficiently
Providing consistent standards of service
Creating accurate and compelling product descriptions
Sourcing new items
Benefits of Selling Antiques on Etsy
Yes, selling vintage items on Etsy comes with its fair share of challenges – but it can also be very rewarding (and profitable!). Here are a few benefits that you should expect from your project:
You will have the chance to build meaningful relationships with your buyers
It allows you to give a new life to vintage and dead-stock items
If you are environmentally conscious, selling vintage items is a great day to repurpose pre-loved items and save them from landfills
You'll get the chance to offer personalized service to each buyer
If you just love spending time in flea markets and at auctions, you will enjoy the process of sourcing vintage items to sell
The Ultimate Guide to Selling Vintage & Antiques on Etsy
Selling vintage items on Etsy is entirely different from selling crafts. In the video below, you can find expert tips to grow your vintage shop – or keep reading for a comprehensive guide!
Find Your Niche
There are several niches you can tap into when deciding to launch your vintage items Etsy shop. Depending on what you decide to sell, each niche will have its unique requirements. For example, the shipping and storage needs of Etsy vintage furniture will be entirely different from those of vintage license plates or collectible coins.
Ideally, you should consider starting from a single niche to nail down the details of what your shop will be and the level of service you will provide. Once you are confident with your current skills, you can level up and expand in similar niches.
There is a lot of debate on what the magic number of Etsy listings is – and this surely depends on the niche you operate in. The minimum number of listings on the platform is 20 – and for a crafts and supplies shop, 40-50 listings can be enough to get started. But if you have a vintage shop, keep in mind that you might need over 100 to start growing your business!
Pro tip: when selling vintage items, you will need to show cohesion – so opt to get started with just a single niche and perfect it. When you are ready to expand, make sure to organize your products into categories!
Source the Right Vintage Items
Let's dive into one of the most important aspects of growing your vintage Etsy shop: sourcing the right items. While other creators can craft their handmade items and digital products, you will need to find items that are at least 20 years old, unique, and cohesive with your branding.
Here are some tips to grow your listings:
Focus on what's available in your area – If, for example, you wish to sell vintage clothes but you are away from most vintage clothing shops, you will struggle to get a large inventory. Instead, look for something that is within your reach – at least at first!
Auctions – regular and antique auctions can be found anywhere, or even online. eBay, AuctionZip.com, Auction.com, and local papers are great starting points. Auctions give you access to large inventories and guarantee high-quality items, but you might pay higher prices for your findings.
Estate and yard sales – whether you live in an area where estate clearance events are common, or your neighborhood often organizes yard sales, there are plenty of unique items to be found here. Great resources include EstateSale.com, Yard Sale Treasure Map, and Garage Sale Map.
Craigslist and other directories – websites such as Craigslist and Gumtree are excellent ways to find vintage items sold by people around the globe. Don't underestimate what you can find on eBay!
Pro tip: Start from your network! Friends and family members are the first point of contact to get your Etsy shop up and running. Welcome donations from the people around you to get started almost for free. 
Understand Your Audience
Understanding your target audience is important when curating a collection of items to sell. Whether you are targeting high-end vintage aficionados, hipsters, interior designers, or rockabillies, it is important to curate a collection that works just for them. The "I'll sell anything I can find" mindset won't work for too long!
Using Etsy statistics, views, and visits can help you determine who is more interested in your shop. Once you are clear on who your audience is, you can use Google to learn about your customer's pain points, find market trends, and curate your listings.
Pro tip: exercises such as creating a customer persona can help!
Think About Your Pricing Strategy
Someone who creates their handmade crafts will only need to calculate their overhead expenses, supplies cost, and shipping charges to know how to price their items. However, it can be far more difficult to calculate your vintage items' margins and come up with a winning pricing strategy. Here is what to keep in mind:
Decide on your margins – the margins applied by Etsy vintage sellers vary, but most shops expect to obtain a return on investment that goes from three times the amount paid to 10X! For example, if you spend $1 for a vintage item, you will want to make between $3 and $10, depending on how difficult it was to source it and how valuable the item is.
Avoid absorbing costs – finding vintage items involves research, negotiation, and time. Make sure you calculate this effort into your pricing strategy.
Track your earnings and expenses – use spreadsheets to calculate margins, forecast sales, and ensure your shop remains financially sustainable.
Learn more about what you are selling – knowing the real history and value of your items can help you find the right price for them.
Pro tip: Focus on quality over quantity! Selling a single, more valuable item with a smaller margin is better than trying to sell multiple cheaper items at a higher margin. For example, selling a vintage ring that you acquired for $30 at $250 is more profitable (and implies less work) than selling ten items at $25.
Descriptions Count! Learn How To Write Compelling and Accurate Ones
Of course, Etsy descriptions are important for SEO and marketing purposes. But more importantly, they can help you close a sale once an interested potential buyer has already landed on your profile.
Whether you opt for a creative or factual description, make sure to include the following details:
A brief history of the piece
Where you sourced it
Year (or estimated period) of production
Conditions
Dimensions and measurements
Any cleaning and renovation work that went into it
Who would love that item
Other product details such as markings and labels
Use bullet points, capital letters, colors, and underlines to make your product descriptions easier to read.
Pro tip: sometimes your descriptions will look different from desktop and mobile. However, according to Etsy shop owners, 30% to 40% of their traffic comes from mobile. So, make sure your Etsy vintage shop is mobile-optimized!
Market Your Vintage Etsy Shop
Branding and marketing your vintage shop is crucial to appeal to your target audience. Whether you opt for a high-end, minimalist branding or you wish to create a more funky image, make sure that your products, voice tone, images, and branding align!
Some marketing strategies that you can use to advertise your vintage shop include:
Use SEO techniques to improve discoverability
Don't underestimate keywords and tags
An image is worth more than a thousand words!
Run a vintage or antique blog to promote your store while offering more to your visitors
Pro tip: white or plain backgrounds for product listings are the norm, but you can personalize your offers by switching backgrounds and props. Just remember to keep them on-brand!
Provide Safe Shipping
Shipping vintage items is one of the most daunting aspects for Etsy vintage sellers. You can't rely on a professional shipping company and you just can't afford vintage items to be damaged or lost while on the way! Some ways to mitigate the risk and provide an excellent service to your customers include:
Invest in priority mail flat rates – the longer your products stay on the road, the greater the chances of damage!
Pick priority mailbox dimensions
Opt for padded envelopes and extra padding for your boxes
Buy your boxes in bulk – especially if you work in a specific niche and you know how large the items you ship usually are
Blank shipping labels can save you some time!
Make sure you start shipping internationally only when you are confident with your shop's capabilities.
Pro tip: charging for shipping is a decision that you will have to make. You can either embed the shipping cost in the final price of the item or charge your customers separately for it. Just make sure to know what to expect from the shipping costs of the different items – and don't get caught by surprise by high international logistic fees!
Think About a Storage Solution That Works
So far, we have been looking at how to source, advertise, and ship your vintage listings. But what do you do with them while they are in your home or garage? Let's look at how to store your vintage items.
Firstly, if you start from a small niche, you know what items you will be handling. In this case, bulk buy boxes or racks that allow you to keep all of your stock in order. Additionally, create a labeling system for your items, and a spreadsheet to record what you have in stock – this will help you immediately find what you are looking for when an order is placed!
Ultimately, keep in mind the effect that weather elements, rain, humidity, and heat can have on your vintage items (especially if you are selling photos!). Ideally, you should store your most precious items indoors, in a climate-controlled, secure area.
Pro tip: work on crafting a smart, professional inventory from day one! It can be much more difficult to catalog your items once you have grown your shop and expanded into different niches!
Additional Services You Might Need – Network!
If at first, you are running a one-man band Etsy shop, you might be used to wearing many hats and trying to do it all by yourself. However, as your shop grows, you will need to focus on consistency of service, high-quality items, and on-brand listings.
As the workload increases, you should consider delegating important tasks to professionals in their sector, including marketers, photographers, and product description writers.
Pro tip: network with local vintage experts and antique aficionados. They can help you determine the authenticity of an item and help you find the right price point for it!
5 Inspiring Creators Who (Really!) Know How To Sell Vintage on Etsy!
There are endless success stories of Etsy vintage shop owners – here are just some of the best ones to find inspiration!
Find More Pro Tips at Crafts and Dollars
Vintage items and antique pieces have never been in demand as they are today. If you have always loved to find unique pearls in flea markets or at auctions, you should truly consider turning this passion into a profitable side hustle by opening an Etsy vintage shop. Find more tips to grow a successful Etsy shop at Crafts and Dollars.