We all know the feeling when we see the
perfect
item when shopping online. While scrolling through so many product listings on shopping websites, sometimes a particular listing really stands out and grabs our attention. This effect is especially noticeable on handmade shopping platforms, such as Etsy. Etsy sellers need to have captivating photos that get the attention of shoppers as they scroll through hundreds of listings. This is the most important factor to get people to click on your listing and make sales! This ultimate Etsy shop photo guide will help you figure out how to capture the attention of shoppers using images! In this article, you'll find quick tips to get started, technical requirements from Etsy, as well as common mistakes and questions that people encounter.
Quick Start Etsy Photo Tips:
Use a simple design – most likely your buyers are mobile and will see a smaller image on their phone
Keep size in mind – some photos will end up blurry if compressed or stretched
Analyze the color scheme – this gives of a "vibe" and style to your potential customers
5 Common Etsy Photography mistakes to avoid:
Using the flash for indoor shots. This is a big no-no as it will alter the true colors of your items. It also produces very poor looking pictures. If possible, only use natural light. You might need to position yourself by a window with adequate sunlight, or even take your photos outdoors.
Don't waste time fooling around with a thousand and one settings on your Cannon EOS or Nikon Coolpix. Save time by keeping it simple and using an iPhone (see more below).
Do not think an expensive camera will produce a better photograph – Surprisingly the newer generation iPhone models (9 and up) have fantastic cameras with robust auto adjustment software
Avoid clutter to keep the potential buyer focused on the item. It also helps to eliminate background "noise". A simple white or grey background is perfect.
Ensure there is enough contrast between your product and background. If you have a white item, do not take pictures on a white tablecloth. Sometimes white items look best on wood backgrounds. Brown items will obviously not work with a black background, opt for a light blue of off-white.
Etsy Photo Sizes
There are several different areas where you'll use photos in your Etsy account. A few of these areas include product listings, shop icon, and shop banner. Since these areas are used for different purposes, you'll need different size photos for each area. For example, your shop icon will require a small, square photo while your shop banner will be large and rectangular.
Listed below are the recommended Etsy photo sizes:
Etsy listing photo size: 2,000 x 2,000px
Etsy shop icon size: 500 x 500px
Etsy banner size: 1600 x 400px
If you need assistance creating a shop icon or banner, check out
Canva.com
.
How many photos can you upload on Etsy?
You are only allowed to upload a certain number of images to your Etsy listings. This prevents sellers from adding unnecessary photos.
You can upload a maximum of 10 images on an Etsy listing.
In most cases, 10 images are enough for the seller to show all aspects of the item to the buyer.
Types of Etsy Product Photos 
Using a wide variety of photos and styles conveys a lot of information about your product.
Studio Shot: A clear studio shot grabs customers' attention. It gives a realistic impression of what the customer will get when they order products. It avoids the hassle of return and exchange.
Lifestyle Shot  – This inspirational photo creates an illustration of the life of customers if they buy the product.
Scale shot: – The customers always need to know the exact size and how the product fits its desired location. For example, how the hairpin looks on a child's head or an adult hairdo?
Detail shot: The close-up photos show off the quality and the material used to make the product. Here Etsy Profile Picture Size comes in. The recommended size for profile photos are 500 x 500px. It will also affect the appearance of Etsy listing photos dimensions.
Group shot: The group shot is good to sell multiple items or products in sets. Here, either you keep that as your profile picture to create a brand or load numerous images with different angles.  The Etsy Profile Picture Size must be 400 x 400 pixels in size and smaller than 10MB. Make sure your original image is square or will misrepresent your profile picture on the site.
Packaging shot: The Etsy Logo size and tips come in handy here. You are showing the packaged product tells the customer what to expect in the mail. Hence, Make sure that your shop logo file is 500 x 500 pixels. To attain an adequate Etsy Logo Size, figure your target audience first. Determine your personality and put together best practices.
Process shot: Finally, the process shot comprehends the customer about all the hard work that went into the making of the product. It promotes business through other websites also. Keep in mind the Etsy Product Image Size. Usually, a photo is cropped under either on a computer, smartphone or with the camera. The ratio needs to be set when the process is done.
Direct Advice from Etsy:
Listing image thumbnails
"Make sure that your thumbnail images have enough of a border that they can be cropped to a square thumbnail without losing some of the product."
Additional advice directly from Etsy's website:
Crop your images using Etsy's crop tool to ensure accurate framing of your item. Using an uncropped image may result in inaccuracies on the final thumbnail.
Try to capture images of your item further back then you think you'll need. This will give you the ability to crop in without losing parts of your item.
Avoid square crops. Upload horizontal or landscape images.
Use an aspect ratio of 4:3.
[the above is taken directly from help.etsy.com]
Etsy Profile Photo Tips:
This is a must for your Etsy Shop. The size requirement is 500 x 500 px. If this photo is of you (the seller), make sure the picture gives off the right "vibe" to represent your brand. Are you able to put on a big smile, but not too cheesy? Are you able to have a fun expression for a fun crafts brand? You will be surprised at how much this makes a difference. This brings in a personal element to interacting with your customers. Customers purchase mostly on trust. They want to transact with someone who they deem as honest. If they are able to see a pleasant photo of you, this can potentially clear up any last second doubts the buyer may have. Personally, I like transacting with sellers who have their verified photo present.
FYI – when we use px, we are referring to pixels per square inch. 
Pro Tip #1.
Use Canva. They have published an
Etsy sizing guide
.
Pro Tip #2.
Reduce item listing photo to only 1000 px wide. Unlike many references out there that use the standard 2000 px, Canva actually recommends 1000 px. What's the specific reason behind this you ask? Well, by setting to a reduced 1000 px wide, this enables your potential customers to click the "zoom" function available to them. This enables the picture to be viewed with further clarity and enhanced detail. This is extremely helpful if you are selling very intricate crafts or designs. This small tip might set you apart from your completion.
*Please note; this recommendation is from Canva and not Etsy. So please use accordingly. 
Pro Tip # 3.
 Not all file formats are treated equally (.png, .jpg. .gif.).Essentially, .png will provide the highest quality photos, but will cause your photo files to be much larger, so anticipate longer upload times.
BONUS TIP [Hire a freelance photographer]:
If you are short on time, or just not really great with photography… you might want to look at having someone take photos of your items through Fiverr. The gigs range anywhere from $5 to $2,145. We feel you can contract a great photographer for around $35-50 (USD) depending on how many pictures you need. Go to
www.fiverr.com
and in the search bar type "product photos". You can then search by price, seller location, time requirement, etc. Just keep in mind, you will have to ship your item to the sellers location so be sure to factor in estimated shipping costs and it's probably not worth shipping outside of your local country.
Etsy Cover Photo Tips
The preferred Etsy Cover Photo Size is 3360 x 840 pixels. The Cover Photo is the most significant branding asset available and is featured prominently on your Etsy shop. While the minimum Etsy cover photo size allowed is 1200 x 300 pixels, the cover photo should ideally be 3360 x 840 pixels to ensure that it is as straightforward as possible and can have maximum impact on the brand.
Size.
Usually, a photo is cropped under either on a computer, smartphone or with the camera. The ratio needs to be set when the process is done.
The photo's size corresponds to how many pixels large and extensive it is. It can be adjusted when editing but needs to be at least a specific size when captured. The size (in pixels) of your impression is also important because it affects your image's quality, especially when viewed with the zoom tool. The long edge of the photos should be 2700px. With a ratio of 4:3, the image should be 2700 pixels wide and 2025 pixels tall for the maximum size and quality. This size is perfect for
Etsy Product Image
Size and will allow you to optimize the image for the web. The
Etsy product image size
is recommended the size 2700px wide by 2025px tall.
Font – 
You may not know it, but the typography you chose tells a lot about your shop. Are you a "fun brand", or more of a "minimalistic" brand. Comic Stans MS is long gone. You might need to rethink how much the font choice plays into the overall interpretation of your brand of your buyer.
Color – 
Why is color so important? Because it plays an influential psychological role in individual life.
Icon – 
Unique and straightforward icons are easy to remember and recognize, which is why they're so helpful for branding.
Dimensions – 
The newest
Etsy photo size
is 
2000 pixels
 on the shortest side with a resolution of 
72PPI
. Use a website, Photoshop, or similar software to resize your images. Don't forget to add frames to give a vintage look for particular products. It can be helpful for
Etsy Photo Size.
If there is a decrease in the size of an image, it won't lower the resolution. On the other hand, the embodiment size increase may lose the key, and pixelation may occur. So how do you take full advantage of this opportunity to wow your audience and create this emotional connection with your potential buyers? Bonus Tip:
What makes a great first photo will depend on what niche you're in, but there are a few elements that are universal.
Bright, beautiful lighting: This can be accomplished with outdoor photography or by purchasing some simple lighting setups on Amazon. One great and easy to use form of lighting is the ring light, which can be found here for just $79.99.
Props: Adding in additional props to your first photo (like flowers, confetti, other similar items, etc), or putting the item into a "lifestyle" setting, meaning photographing it while in use, is a sure-fire way of standing out in a sea of competitors who are simply taking a photo of the item itself. Buyers are looking for demonstrations of how the item will look once put to use in real life!
Models: Getting a human/pet or any living and breathing thing into your first photo will help you garner those clicks faster than maybe anything else! If your item is a bracelet, get a photo of it on a wrist. If it's a personalized engraved hammer, get a photo of it in a hand. Is it a bone? Get it in a dog's mouth! Models help increase conversions. Period. Get some people and pets involved in any way you can!
Here are a few examples of some ideal first photos. Take note of all the different elements that make them great. The beauty is in the details!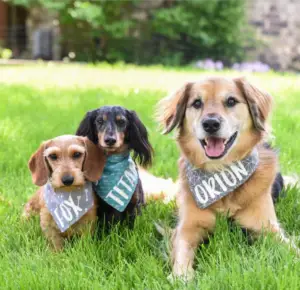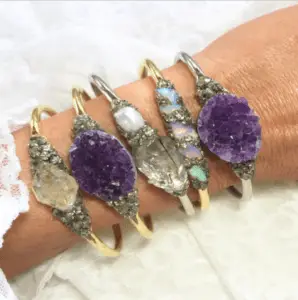 Etsy Product Photo Summary
To summarize, remember your first photo is the first and maybe last opportunity to create a connection with your potential buyers, so take it seriously. Make sure you have a solid knowledge of how to create the best images possible using whatever camera you have at your disposal, and educate yourself on brilliant lighting. Pay attention to the details and once your photo is uploaded to your listing, be sure to fit it correctly into the thumbnail using the listing editing feature that allows you to resize your first photo inside that thumbnail. This way you can ensure no part of the item is being cut off and that it's being viewed in just the way you intend. Lastly, have fun with your photography and remember to always shoot for consistency in your photos within your brand as whole. Give your buyers something to remember you by. Now go forth and shoot!